A few years ago, you could have asked me "Why Motorsports?" and I likely would have said I have always been a car person.  But examining my life in detail, I missed key signs my passion never was just about cars.

If I were to envision a slogan for my life, I'm sure mine would say "Maybe she's born with it, maybe it's gasoline." It's a more fitting spin-off of a well-known makeup commercial slogan.
I used to call myself a car person, but it never really was about the cars themselves … it was my love of driving past reasonable and acceptable limits.
It's not that I haven't had my most loved cars. I was, after all, a Honda loyalist and nearly worshiped my 1991 Honda CRX Si.
After a few years, I'd come to find myself oddly connected to Porsche. If I had a spirit animal, I determined Porsche was it.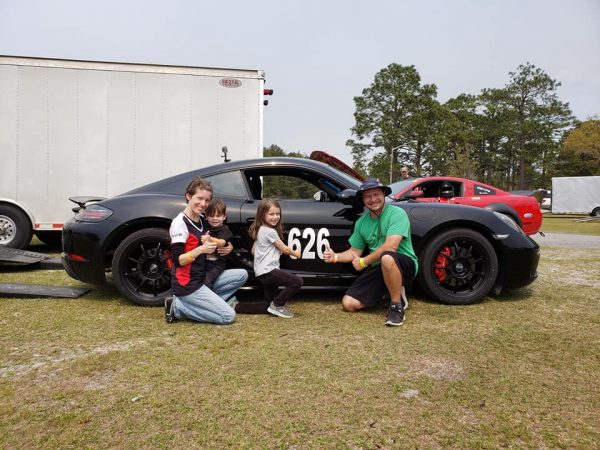 As a married mother of two, I guess it's surprising for people to learn that my hobbies revolve heavily around motorsports. It was weird to me that others were surprised.
You see, there's only been a brief period that cars weren't a big part of my life.
From a very young age, I would beg my dad to teach me to drive and let me shift gears. He loves reminding me about the times I would stand in the middle of the bench seat of his blue '65 Chevrolet Short Bed Stepside to shift gears as a tiny tot.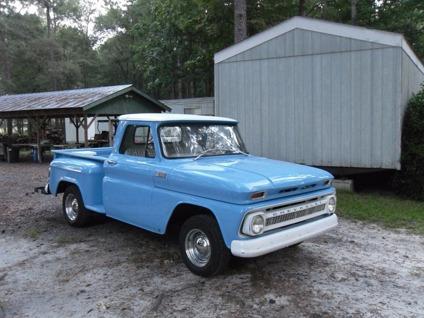 Photo from American Listed Advertisement
Later, I would shift from the passenger seat of his old Nissan Pickup. I would listen for the engine beginning to wind out and knew when to shift. Eventually, I wouldn't need to see if he was pushing in the clutch.
In elementary school, I was the odd girl bringing in remote control cars for show and tell. I'd hang out on the living room floor with my dad and a slot car track with the gun-shaped controls.
As a teenager, nothing about being in a vehicle made sense unless I was either speeding or sliding around the dirt roads of our small town.
I didn't settle down much in my twenties either.
Speeding tickets were plentiful. I collected enough to almost lose my license. Twice.
At the time, I was one of the silly "tuners." My 1991 Honda CRX Si was "my baby." I had some extra fun with a Jackson Racing supercharger until I later had the engine swapped for a B16.
Street racing and playing what I like to call "car chess" were my favorite, albeit irresponsible, activities.
After I had my first baby, I temporarily lost myself in motherhood. That time in my life wasn't pretty!
Nearly 1 year later, my husband encouraged me to join Autocross with him. I regained myself and my love of driving at the limits increased.
From then on, I'd join him on nearly every Autocross event.
Several years later, I would go on to try HPDE or open track days and couldn't get enough.
I've even had the pleasure of doing a few laps in a Civic Type R at Nürburgring!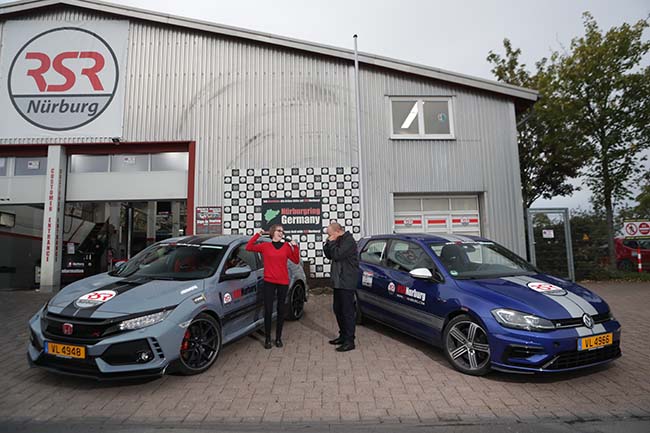 Hubby pretending to be upset he chose the Golf R at Nurburgring. But it really WAS the wrong choice.
But my story doesn't end there!
Watching rally racing has always been a thrill for me and I knew someday I would like to learn how to drive a rally car.
After taking pictures for Rally-X at The FIRM, learning to rally felt more necessary than ever. So, my husband and I promptly signed up for our first Rallycross.
After that, I took a one-day Rally Driving class at The FIRM.
I've enjoyed and still enjoy all the motorport opportunities I have the pleasure of experiencing. Each has had its purpose and benefits.
Autocross was my introduction and a place I can often find my adrenaline.
Track days are my Zen.
Rallycross was pure joy and reminded me of my teenage years. Rally class was the same and I'm hopeful I'll be able to check rally driving off my bucket list someday.
So, reflecting on my life's journey, I realize I wasn't necessarily a "car person."
Yes, I've loved certain cars, but I believe I was born to drive! The cars are the means of the way. And yeah, maybe certain cars elevate the experience. I'm still holding out for my next Porsche, after all.
I'm not the fastest person out there. I'm not even the fastest female.
None of that matters.
What matters is that driving cars beyond normal, everyday standards feels like the most natural environment for me.
My husband introduced me to legitimate motorsports. But, my natural desire to drive better, faster, and a little more aggressively propels me further into motorsports as time passes.
I enjoy speed, being aggressive, and maybe a bit competitive.
I love feeling, hearing, and smelling everything that happens within the car or on the track.
I have fun learning more about driving and consider myself capable of applying new concepts quickly.
So, why motorsports?
It just feels natural.
This is where I belong.